People and Their Cats
While shopping for some fleece fabric for my cats a few weeks ago, I had the pleasure of meeting Bradford Harris, a cat lover and a passionate trout fisherman. Bradford was seconded from the sporting goods department to fabrics and as we were chatting Bradford told me about his fishing camping adventures in his converted van in Iowa. His feline companions Serena and Jesse accompany him on his travels.
It all started in April of 2011 when Bradford began converting a 2007 commercial van into a camper. His tortoise shell cat Serena, traveled with him and they camped and fished for trout all over bucolic Northeast Iowa. They (also) visited Minnesota, Wisconsin and Illinois.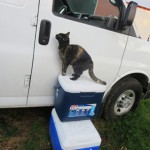 Following his father's death in 2013, times were tough for Bradford.  Serena lived in the van with Bradford on a farm in our rural county. Bradford set up stair steps for Serena so she could easily climb in the van and a tarp to allow her shelter while he was working. Each night Serena would come in from the outside and spend the night by Bradford's side. Months later Bradford and Serena moved into their new home.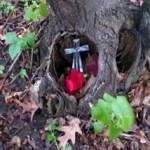 At nearly seventeen years old, Serena died following a long and happy life. Bradford planted a glass cross at Dutton's Cave Park, near West Union, Iowa.  It was her favorite camping spot as a little memorial to this tough little girl. As Bradford tells me, Serena is still deeply missed.
After Serena passed away, Bradford acquired Jennifer Stephanie as a kitten. She has that famous "tortitude"- an intrepid, inquisitive attitude combined with an amazing little heart full of love.
As Bradford tells us, he knows that one day after she's fully grown, the kitty will accompany him to quiet places around Northeast Iowa.
Jennifer was named after Stefanie Powers, a character who played Jennifer Hart from the TV show "Hart to Hart" …  As they said in the TV show opening theme, "She's one lady who knows how to take care of herself!"
Bradford writes his own blog VAN TREKKER Van Camping in Iowa
To read more go to: http://vantrekker.com/
Comments are closed.