The Collecting Cat, Helena J. Maguire
If you are a lover of cats, then I know you will be charmed by the cats of Helena J. Maguire. Painted in water color in the 19th and 20th centuries, Helena's felines have regained popularity among collectors in the 21 century.
Born to a family of artists in London in 1860, Helena painted still life images common to British life in the 1800's. But her most popular subjects were of children, cats and dogs. She was an illustrator of many children's books. She also exhibited at the Institute of Painters in water colors and at the Royal Academy, both of London, from 1881 to 1892.
Her father Thomas H. Maguire was an artist and engraver noted for his portraits of prominent figures. In 1854, he was appointed lithographer to Queen Victoria and for a time had a studio in Osborne House on the Isle of Wight where he executed many lithographic portraits of members of the Royal Family. Helena had two sisters who were separately noted. Adelaide painted depictions of child life, and Bertha was a flower painter.
Helena's cats were reproduced in prints and postcard predominantly during the post card boom of late 1800's and early 1900's. Raphael Tuck & Sons of London were in the forefront of the post card boom and printed many of Helena's Christmas and anthropomorphic cat postcards. Raphael Tuck & Sons were also noted for launching the Christmas card industry as an annual custom throughout the world today.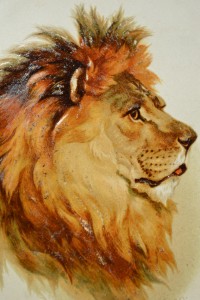 While many of her original water colors come up for sale in well-known auction houses in London, her endearing cat portrait post cards can be obtained easily and affordably through antique retailers and EBay. I myself began collecting Helena Maguire over a year ago. A Helena Maguire cat can easily be identified by its adorable, almond shaped eyes and tilted head. This depiction was developed over time as early in her career her cats had a slightly different look. She not only painted domesticated animals but those in the wild as well. A favorite in my collection is a trio of wild big cats.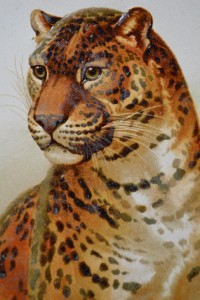 EBay prices of a Maguire post card can range from fifteen dollars up to nearly two hundred dollars depending on the quality and rarity of the image. Occasionally, there have been some minor unauthenticated watercolors listed for several hundred dollars or more. Larger prints of still life and of various dog breeds can be bought for less than two hundred dollars.
Helena was a prolific artist even though she passed away at the far too young of age of forty-nine. One wonders if Helena Maguire could have ever imagined that an appreciation for her artistic talents would develop over one hundred years later.