Kyle
I receive many nice emails from customers all over the country but a few really stand out like this letter about a cat in New York State named Kyle. Kyle's story really touched my heart. I love making great cat litter but when a cat becomes well again after switching to Beth Anne's I feel I have accomplished so much more.
We stumbled upon your product at a local pet supply store in Brooklyn called "Pet Pantry" after trying all the other major brands of clay, corn, wheat, walnut, recycled newspaper, crystals, etc. and none of them perform as well as Beth Anne's Finest, especially at that price point. Our Gray Tabby, Kyle is sensitive to many of these litters. After using the litter box, he licks his paws to groom himself and had developed an asthma like cough from doing so. After taking him to the vet and administering several rounds of various medications with no results, we were advised by our vet to change litters.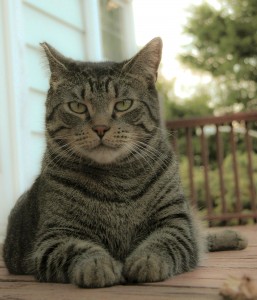 What we learned was that the retail corn and wheat litters carry worms, larvae and weevils and eventually flies. The clay litter was accumulating and clogging Kyle's wind pipe and digestive tract. The other substances just did not perform well at all and were very pricy – gimmicky. What we found with Beth Anne's Finest was that is has almost no dust, no accumulation, it's digestible in minute amounts, it doesn't attract larvae and flies, very good odor masking, no artificial ingredients, no perfumes, it does not track at all, it lasts a really long time – averaging 10-14 days, it has superior clumping, it's flushable, it's relatively inexpensive and our cats love it.
Kyle's coughing cleared up within a week or two and he hasn't coughed since — it's been over a year.
We like the fact that Beth Anne's Finest is a quality driven, small company and is eco-conscious. We hope to see more of this product in the local "Mom and Pop" pet supply stores in New York, New Jersey and Connecticut soon.
Thanks for a good idea and a really good product.
Jim and Lisa – Kyle and Jackie