I have loved and cared for cats since I was a little girl growing up on a farm in Iowa. And today cats are still a part of my life. I was fed up with expensive ineffective cat litters and decided I could do better. So I created an alternative that serves the needs of cat owners like you while respecting the environment from a plentiful resource right in my own back yard.
As a plant-based litter, Beth Anne's Finest does not involve harsh collection methods such as strip mining like clay-based litters. And I am committed to never using plastics in my packaging. Every ingredient is grown in the Midwest and milled in Iowa. Because of the absorbency of corn, Beth Anne's Finest All Natural goes further than other leading litters, lasting up to two weeks for two average sized adult cats. Once used, Beth Anne's Finest All Natural can be sprinkled outdoors to breakdown naturally. That's less waste to be collected and less waste to clog up landfills.
Thank You,


Protecting the environment:
Created from a renewable resource
No use of plastics in packaging
Packaging is recyclable
After use litter breaks down naturally
100% Biodegradable!
Producing safe and effective litter:
Clean and highly absorbent
Superior clumping qualities
No fragrance or chemicals
Lasts up to two weeks
No need to change the litter frequently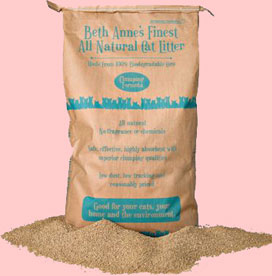 ---
Order From Us Direct!
If you would like to try Beth Anne's Finest All Natural Cat Litter you can order direct at the wholesale price of $7.69 per bag, 20 lbs (9.07 kg.) each.
Order ten or more bags and pay only $7.00 per bag.
Please call or email for a UPS Ground delivery quotation to your home or commercial address.

As seen in Cat Fancy and Pet Products News magazines!