About Beth Anne's Finest
Safe for the environment — made of 100% biodegradable corn.
As a plant-based litter, Beth Anne's Finest does not involve harsh collection methods such as strip mining like clay-based litters. I am committed to never using plastics or bleached paper in my packaging. Every ingredient is grown in the Midwest and milled in Iowa.
Because of the absorbency of corn, Beth Anne's Finest All Natural goes further than other leading litters, lasting up to two weeks for two average-sized adult cats.
Once used, Beth Anne's Finest All Natural can be sprinkled outdoors to break down naturally. That's less waste to be collected and less waste to clog up landfills.
---
Frequently Asked Questions
How much should I use?
Keep a constant level of three inches in the litter pan.
How many bags should I order?
One 20-lb. bag will easily and adequately fill two average sized (about 15″ x 11″) litter pans.
How frequently should I scoop?
At least once a day depending on how many cats are using each litter pan. But don't scoop immediately. The longer you leave it the harder the clumps. I like to scoop once a day in the evening.
How long will it last?
Up to two weeks for two average sized adult cats. But watch their usage. Each cat has slightly different habits. You will want to tailor your usage according to your cat's routine.
What if I find my cat licking the litter off its paws? Is it harmful?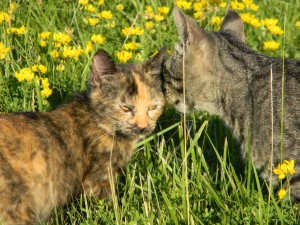 Absolutely not. Beth Anne's Finest is made entirely of the kernels of corn. If your cat ingests litter it will easily pass through its digestive tract. There are no chemicals or fragrances to harm your cat.
What if I don't like the smell of grain?
Beth Anne's Finest is a milled product. It will smell like fresh grain. I am adamantly opposed to any kind of fragrance, natural or otherwise. Fragrance is for humans not the sensitive noses of cats. Your cat will be less inclined to use the litter if there is fragrance. Fragrance is used in litter to cover odor. Beth Anne's Finest isolates and stifles odor. I make this litter with the purpose of making an easy and effective method for cat owners, a safe litter for your cats while respecting the environment.
Is it dusty?
Beth Anne's Finest is low dust. I cannot make a product to be highly absorbent and completely free of dust. Those are two opposing objectives. But I have made a product which is very low in dust.
How do I dispose of my used litter?
Because Beth Anne's Finest is biodegradable you have a variety of ways to dispose. It will break down easily in landfills. Depending on where you live you can sprinkle it outside to break down naturally. It is flushable. But flush wisely by flushing small amounts at a time.
Residents of California: Do not flush used cat litter down toilets or drains as it poses a threat to marine wildlife. Please place all used cat litter in the trash.
Where is Beth Anne's Finest made?
Right in the heart of America in my home state of Iowa from corn grown by Iowa family owned farms. The ingredients and packaging are American made. I use unbleached paper for the bag and one color of soy-based ink. Please remember to recycle your packaging.